TeamViewer settings / remote desktop access 2018

for IPC Corporation s.r.o. clients

TeamViewer version: 13.0.6447
Document update date: 11. 1. 2018
Contact: Filip Albert (albert@ipcc.cz, +420 777 721 207)
Download TeamViewer on https://www.teamviewer.com/en/download/ according to your operating system.
Run the installation and select Install, then select  Personal/Non-commercial use  and click on Accept – finish  Picture 1.
 A window with your ID and password will pop-up automatically. For establishing a connection, you need to hand  your ID and password to your IPCC assistant, Picture 2.
Password is generated automatically and it changes sometimes. Your ID and password will show everytime you click on TeamViewer icon on your desktop.
You can set a static password for Team Viewer. In Connection select Setup unattended access…, Picture 3. and confirm by clicking on Next, Picture 4.
Step 1 from 2 –Set your Computer name and a personal password for your computer and confirm by clicking on Nect , Picture 5.
Step 2 from 2 – If you do not want to create an account in TeamViewer, select I dont want to create a TeamViewer account and confirm by clicking on Next, Picture 6.
Your unattended access and your password is now set. Confirm by clicking on Finish, Picture 7.
Picture 1
Picture 2
Picture  3
Picture 4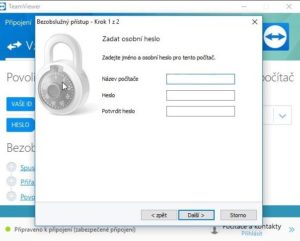 Picture 5
Picture 6
Picture 7